We would like to tell you how "Metal Butterfly" was born.
How did we come to make a metal bow tie? And why is the bow tie associated with "SAPEURS"?
This has been a topic that we have received many questions from everyone in the past.
What I'm about to tell you is our story about 'Metal Butterfly' and 'SAPEURS'.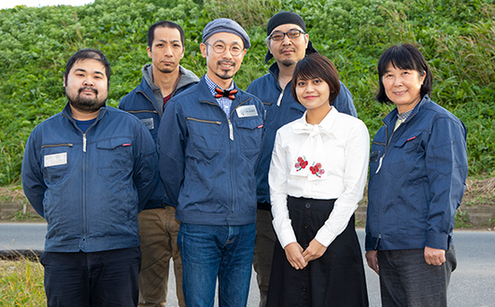 Photo with Sarah, a designer from Indonesia, who worked with us as an intern last year.
Our company "Nissei Inc." is a precision sheet metal processing company founded by my father, Ichiro Aoki, in 1998. Our processing technology is used in the "Metal Butterfly" bow tie.
Incidentally, the main business of precision sheet metal processing is to produce chassis and parts for industrial equipment, such as medical equipment, food processing machines, power distribution boards, control panels, server racks, office bookshelves and lockers.
We cut out iron, stainless steel, aluminum, copper and other sheet materials into various shapes, bend them, and depending on the part, weld them together, and then apply surface treatment such as painting or plating to complete the product.
"Sheet metal" is often mistaken for "press work", but "press work" is an industry in which mass production is carried out using specialized molds for making the parts, but "sheet metal" is an industry in which small lots are processed using general-purpose molds rather than specialized molds, but for the time being, we will make a rough distinction between the two.
Now, to explain how "Metal Butterfly"bow tie was born, I'd like to go back 18 years ago, to 2002, when I was 26 years old.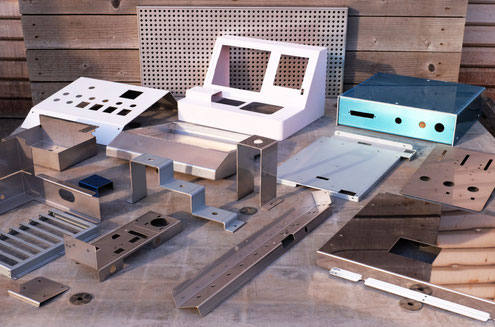 Examples of sheet metal parts we manufacture
The Dream of "Own Products" from "On the Verge of Bankruptcy"
I was 26 years old when I started working at Nissei.
At that time, I never thought of taking over my father's company.
My father was short-tempered and angry, and I hated him from the bottom of my heart as I had seen him shouting at my mother for every little thing growing up.
I never felt at ease even though we lived together, so even the thought of moving back to my hometown, much less working for the same company, made me feel bad.
In fact, after graduating from university, I worked as a salaried worker in Yokohama and Tokyo to earn enough money to enter a school where I could study computer graphics and video editing, and in the future I wanted to work in that industry. As a lover of music, I was living a fulfilling life with a youthful dream of working in the creative visual arts world, such as music videos.
But one day when I was 26 years old, I received a phone call from my mother that changed my life.
"Shigeyuki, can I borrow some money?"
It was too shocking a call. I could feel my mother struggling to make ends meet on the phone, so I told her that I would send her all the money I had saved and then asked her what was going on.
The next day, I talked to my boss at my old employer and finally decided to quit my job and return to my parents' house.
At the time, Nissei was in a very bad financial condition, due in part to the bankruptcy of its major customers, and was on the verge of bankruptcy.
If I didn't turn my company around, it was over.
It was as if the wheels of my life had gone off in an instant.
I won't go into specific numbers here, but if I talk to people in management about the situation I was in at the time, I think 10 out of 10 people would say "Stop!". But the reality is that there was no other option but for me to rebuild the company.
In order to overcome this situation, I worked very hard to get to work.
First of all, I couldn't even get a sufficient salary from our company, so I worked for the Nissei during the day and then from 7:00 p.m. to midnight I worked part-time at a nearby food distribution center for about three years as a sorter.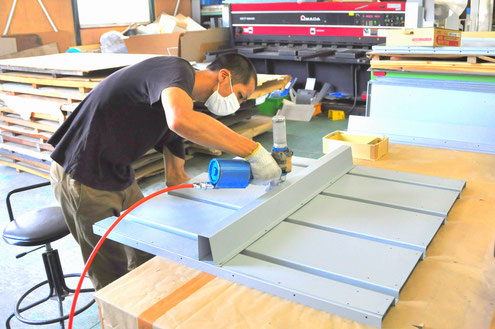 Manabe, an employee of our company.
He was my part-time buddy when I was working at the distribution center.
He joined Nissei after that, and he is a very important buddy of mine who has been sharing our hardships and joys.
In addition, I frequently went to greet our existing customers to let them know that the second generation had returned as a successor. At the same time, I conducted sales activities to develop new customers, and then I taught myself how to create a website and put a lot of effort into attracting customers through the web.
At the time, most of the work I was receiving was subcontracted or sub-subcontracted, so profits were thin, and even if I was busy, I had almost no profit left in hand. So we gradually reduced the percentage of work we received from our competitors and trading companies. Instead, we set a policy of increasing the percentage of orders from "prime contractors" and worked to raise the level of our production management system and customer service.
As I worked myself into a difficult situation like this, I had a feeling in my heart that
"Someday we want to have our own product we can price ourselves." 
 This was the beginning of the "dream".