Thank you for reading our blog. I'm Shige Aoki.
In addition to running the Metal Butterfly bow tie brand, I'm actually a curator of contemporary African music. I'm particularly digging Nigerian afropop or afrobeats, especially since 2015. Their music is now getting a lot of attention worldwide, and they are actively collaborating with artists in the major UK and US scenes, and their presence is spread around the world. My fascination with afropop & afrobeats began when I traveled to Africa by myself to meet a fashionable gentleman "SAPEUR" from the Republic of Congo, and I was interested in the songs that DJs were playing in clubs in Congo, Ethiopia and Tanzania. It was refreshing to see Africans dancing to music that we don't often hear in Japanese clubs, and it was even more refreshing and fun to dance with them.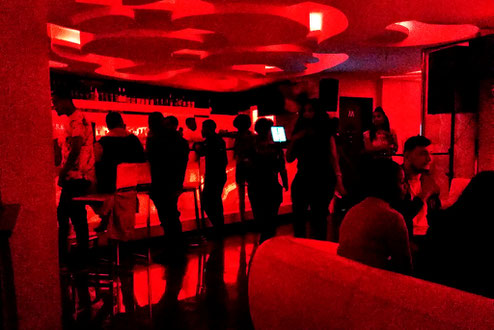 A club in Addis Ababa, Ethiopia. I remember the atmosphere was dubious.
I didn't know what song was playing on the floor at that time and whose song it was, so I sometimes looked up African music when I got back to Japan. Later, I was offered to select & DJ African music at an event called "International Bon Dance & African Yukata Runway" held last September as a TICAD7 cooperative project. That's why I started digging afropop and afrobeats with a passion.
So, in this article, I'd like to focus on "Youtube views" to let you know what kind of African music is popular in the world today. In Japan, many popular artists such as Kenshi Yonezu, have racked up over a billion views. If so, what the hell is African music? I looked it up and found out, there were nine artists with over 100 million views!
Korede Bello "Do Like That"
186.9 million views
Born in 1996, Nigerian singer Korede Bello is an Afropop singer known for the national hit "Godwin". He began performing at the age of seven, and his stage name was African Prince, and his early work was more guitar-pop rather than the Afropop/Afrobeats of today, with early cover photos showing him with a guitar.
One of his greatest characteristics is the beauty of his voice. Especially in his works when he was a young teenager, it's hard to tell if he's a man or a woman by his voice alone. Although his recent visuals show that he has become much more masculine, you can still taste the mellowness of his beautiful voice in the single "Sun Momi" released this year in March 2020.  "Sun Momi" is my personal favorite of Korede Bello's songs, so if you like mellow music, this is a must-listen for you.
Now, "Do Like That" video was released in November 2016 and passed 100 million views in June of this year 2020.  This "Do Like That" includes a remix of the song with Kelly Rowland, the former Destiny's Child (although I don't think it needs any explanation), which may be one of the reasons why the number of views increased. Take a listen to "Kelly's version" if you like.
Runtown "Mad Over You"
114.18 million views
Next up is Runtown, he is also a singer, songwriter, and producer from Enugu State, Nigeria. His first single "Gallardo", cut from their 2014 debut studio album "Ghetto University", featured popular Nigerian artist Davido. And the song won "Best Collaboration" at the Nigerian Entertainment Awards. Released in 2016, "Mad Over You" reached No. 38 on Billboard's Twitter Top Tracks chart and won "Best African Artist" at the Ghana Music Awards the following year. Since its release, "Mad Over You" has become a hit song appearing in the charts of African countries, and finally exceeded 100 million views in January 2020, according to an article in Pulse Nigeria. The fashion of the female models in the music video is just so cool, so we hope you'll pay attention to that as well. You can also check out the making-of video for "Mad Over You" in the Pulse Nigeria article, if you're interested!
Yemi Alade "Johnny"
124.7 million views
"Queen of Afropop" is Yemi Alade. The song "Johnny" was released in October 2013 as the lead single from her debut album "King of Queens" and the music video was released in March 2014. The song became an international smash hit, charting not only in Nigeria, but also in other African countries such as Tanzania and Kenya, and across the ocean in the UK. 
Yemi Alade is from Abia State, Nigeria, and became a household name in Nigeria after winning the "Peak Talent Show 2009". She has released five albums so far, including her latest one, "Empress", which was released just recently (November 20, 2020), and is the "first African female artist to surpass one million subscribers to her Youtube channel". On the occasion of the release of her album "Mama Africa", she donated 10% of the proceeds to "Feed a Child", an organization that supports food, medical care, and education for poor children. She is a very popular artist in Nigeria for her social contribution. In February of this year, she released the single "Shekere" in collaboration with Benin artist and current UNICEF Goodwill Ambassador Angelique Kidjo (she is the winner of the 62nd Annual Grammy Awards in January 2020) to great fanfare.
Tekno "Pana"
142.65 million views
Tekno is a Nigerian singer born in 1992. He studied guitar and piano at music school from the age of 8 and made his debut in 2013 with "Holiday" featuring Davido. Like Runtown which I introduced earlier, the label has put a lot of effort into marketing its debut track. Incidentally, another Nigerian singer Spotless is Tekno's brother.
Tekno won "Best Pop Extra Video" at the Nigeria Entertainment Awards in 2014 and "Best New Act" at the MTV Africa Music Awards in 2016. He released "Pana" in 2016, which was a major breakthrough. In the music video, which begins with his bow, a series of mysterious Chinese characters appear in a dimly lit space. The costumes and movements also convey a Kung-Fu element. When the song caught the ear of the vice president of A&R at Columbia Records in the U.S., Tekno signed a distribution deal with Columbia and "Pana" was re-released in the U.S. as well. It was just about the time Wizkid was featured in Drake's "One Dance" and produced a worldwide hit. This was the event that definitely brought the Nigelian Singer closer to expanding to the United States, according to an article on billboard. By the way, there was a remix version of "Pana" by Yemi Alade on Yotube, so here's a link for your reference.
Burna Boy "On The Low"
167.6 million views
Burna Boy, the face of the Nigerian singer alongside Wizkid, his "On The Low" has been viewed more than 160 million times. Burna Boy has worked with mainly UK artists such as Sam Smith, Stormzy, Ed Sheeran, J Hus, Chris Martin (Coldplay) and Jorja Smith. But recently, he has collaborated with American artists such as Nicki Minaj, Summer Walker, and hip-hop legends Naughty By Nature. He have steadily expanded his range of activities.
Burna Boy was born in Port Harcourt in 1991. His grandfather Benson Idonije was the first band manager of that Fela Kuti! He gained popularity with "Like to Party," the lead single from his debut album. You can enjoy the marriage of his captivating voice and sophisticated tracks on popular songs like "Tonight", "Hallelujah", "Dangote" and "Anybody". Incidentally, on the 2014 release "Tonight", you can still see the young, short-haired and refreshing Burna Boy singing in a dandy white jacket and bow tie. I hope one day I can present Metal Butterfly bow tie to Burna Boy!!
And Burna Boy had another song, "Ye", which had over 110 million views.
So, in Part 1 of this article, we've introduced five Afro-pop artists with over a billion views on Youtube. If any of these songs or artists catch your attention, I'll be happy to hear from you. And what artists will appear in the next Part 2? Please look forward to it! Thank you for reading the blog to the end, I was Metal Butterfly producer and African music curator Shige Aoki.